3M reflective conspicuity markings tapes
to enhance the visibility of the sides and rear of vehicles
3M 983 DIAMOND GRADE self-adhesive reflective tape is made of microprismatic film with very high reflectivity and a wide angle of reflection. 3M conspicuity reflective tapes are six times brighter than conventional markers, reflect light at an angle of about 90 degrees, are very durable and do not corrode. During the day the colors are vibrant, and in the dark the reflections are intense and distinct.
The 3M Series 983 reflective tapes are designed to define contours on smooth and rigid substrates.
The 3M983 reflective tape is designed for all types of vehicles, trailers and other surfaces where reflective markings are required, such as bollards, barriers etc.
3M 983 conspicuity reflective tapes are available in 55mm wide and white, yellow, red colour.
File to download:

3M™ Diamond Grade 983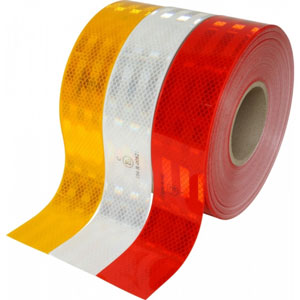 « powrót