TAPES FOR BINDING METALS, ARTIFICIAL MATERIALS, GLASS AND LACQUER-COATED SURFACES
Double-sided self-adhesive tapes, also known as mounting tapes, often successfully replace traditional methods of binding various construction materials, offering additional aesthetics and tightness of the joint. Double-sided mounting tape is used for binding metals, artificial materials, foil, rubber, glass, lacquer-coated surfaces and other.
Double-sided adhesive tape may have diversified parametres. Numerous types of carriers ad glues allows for the selection of optimal solution.
They are used in almost all branches of industry and services.
Examples of application of double-sided adhesive tapes:
• production of shutters and blinds
• self-adhesive plastic, rubber, timber profiles
• large surfaces lamination
• decorative elements of furniture
• marks, emblems, plates
• framing pictures
• exhibition stands and promotion stands
• in printing houses and bookbinders
• basting in sewing with fabrics and leather
• gluing of decorative packaging and promotion materials.
We have several hundred double-sided tapes in our offer.
Below we present the most popular parametres of tapes:
Double-sided foam tapes
symbol: 2412 i 2422
thickness of tape: 1 mm
colour: white or black
acrylic solvent-based glue, resistant to external conditions and ageing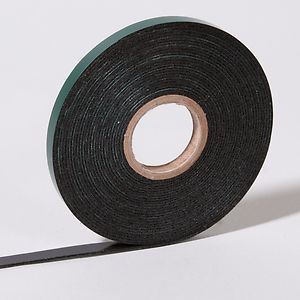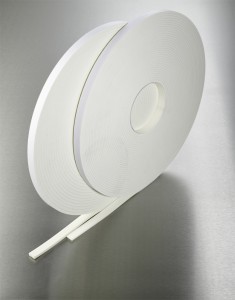 Transparent double-sided tapes on carrier of polyester film
symbol: 2302
thickness of tape: 0.21 mm
acrylic solvent-based glue, resistant to external conditions and ageing
short-term resistance to heat: +150 ºC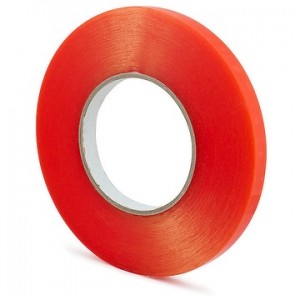 Flexible double-sided tapes on carrier of PVC film
symbol: 2612
thickness of tape: 0.24 mm
colour: white
acrylic solvent-based glue, resistant to external conditions and ageing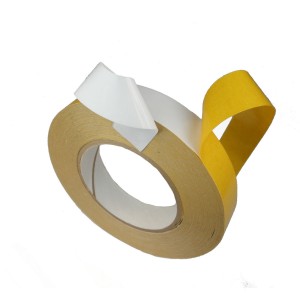 Aggressive adhesive double-sided tapes on carrier of glass fibre net
symbol: 2703
thickness: 0.25 mm
colour: transparent
Quick-setting rubber adhesive (solvent-based)
PDF to download:

  Tesa double sided tapes   

  3M błony klejowe do laminowania
« powrót