SELF-ADHESIVE HANDLES
The equipment used for self-adhesive handles production for multi-packs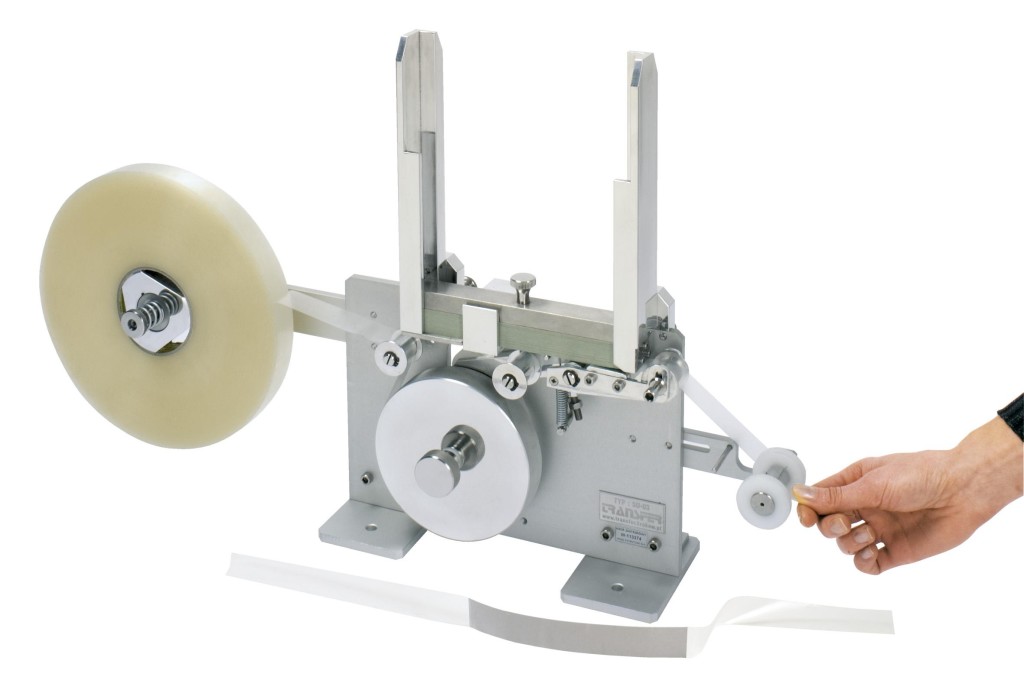 SU-03 equipment is used for manual production of popular self-adhesive handles for multi-packs with beverages and many other products.
"Carry handles" consist of a section of adhesive tape with special properties and a cardboard glued under the tape in the gripping part. The transparency of carrying handle tape allows for visibility of the advertising or informative text printed on the cardboard.
Carry Handle completed in this way allows not only for safe handling of packs weighing even up to 12 kg, but also improves the aesthetics and functionality of the packaging.
In its standard version (C-TYPE) the equipment allows for making handles 440 mm long. The length of the used cardboard sections is L1 = 190 mm and the length of adhesive sections G is 125 mm. All variants are presented in the table below:
A-TYPE: L = 380 mm, L1 = 120 mm, G = 130
B-TYPE: L = 410 mm, L1 = 160 mm, G = 125
C-TYPE: L = 440 mm, L1 = 190 mm, G = 125
D-TYPE: L = 440 mm, L1 = 210 mm, G = 115
E-TYPE: L = 495 mm, L1 = 245 mm, G = 125

Cardboard sections must be made of STROMCARD paper 200 g/m3 or BALTICA paper 230 g/m3 coated with protective layer on one side only. The width of cardboard sections is important and should be in the range of 24.6 mm to 24.8 mm. The use of any other type of paper or other widths may cause problems with proper functioning of the equipment.
You can make approx. 1500 handles of one roll of tape 25mm/ 660m. Small dimensions and weight of the equipment allow for its practical use in almost all production conditions.
Special roll of "Handle Tape", also referred to as "Carry Handle Tape", applied in the manual equipment SU-03 has 25 mm x 660 m dimensions.
We offer also special tapes for self-adhesive handles used in automatic equipment of the production line. The roll of this tape in the machine variant has the dimensions of 25 mm x 5000 m or 25 mm x 6000 m.
You liked it - leave a rating
Average rating / 5. Vote count
« powrót